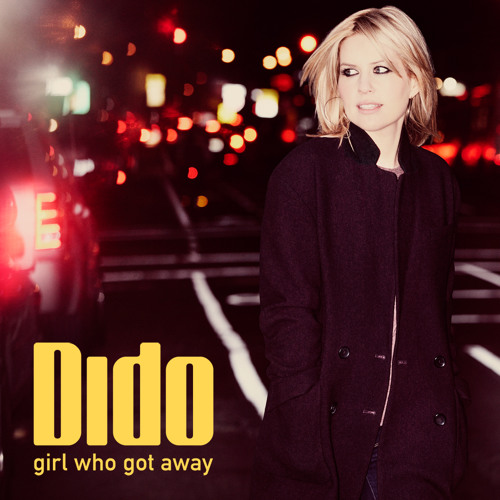 Dido has been having a good life. She has a child, a nice married life, and has had a very languid past few years. It could very well be the reason behind her fourth album's name 'Girl Who Got Away'
After the commercial flop that was 'Safe trip Home' (which dealt with theme of death), she almost instantly came up with the current album. But then she took off time to be with her family, and this took the backseat. Maybe, one fine day, she was sitting down on her sofa, heard one of her songs on the radio and thought "dude, those aren't the only songs I'd like to be remembered by, you know. Here, have another album".
'Life for Rent' saw a massive success. But her albums have always had the same feel to them. Never the one to sit behind just so, she comes up with songs that sound similar, but still have the power to sell. A clever marketing ploy? Nope.  The lyrics that Dido sings have that quality of going either way ('Thank You' is a good example). This one is a stylishly produced album that has minimal gimmicks, or, let's say, the usual Dido gimmicks. The result being that we are left with many Dido-ish songs, some good, some not so much.
'End of Night' speaks of a relationship finally ended with the girl walking away.  The perfect symbolic ending, coupled with a funky dance-like beat. This will remind the older fans of her days with Faithless. 'All I see' is a pretty little hip hop song that features rap verse from Pete Miser. Of course, the obvious comparisons will be made between this song and 'Stan', her best hit till date with the hip hop star Eminem. But this is in a league of its own. 'No freedom', the album's first track, is as dull and insipid as they can come. It offers nothing new to the Dido circle, and will be forgotten even before it is announced.
A typically soothing and sad song is 'Happy New year', that tells of a woman's lament over her lover. One may think of this as the last song they hear before they finally fall asleep. You know, that last wager with the brain saying, "one more song, please, and then I'll go to bed."
Perfect example of Dido's honesty and humble lyrics is in the form of 'Sitting on the roof of the World', where she sings about how she rose to fame, how surprised she was at that, and how despite of it all, she simply just wants to sing the songs. 'Let us move on' her collaboration with Kendrick Lamar is yet another hip hop sounding track that may achieve a better success than "All I see", as Kendrick Lamar is a very popular artist of his genre.
Dido brings forth the same type of songs every time. Yet they sound different. They are not the kind that will stay on your music players for long, but they won't disappear into oblivion either.  Girl Who Got Away may not be as good as Life for Rent, but it will give us what we need, a few good songs at least.
Standout tracks: 'End of Night',' Let Us Move On', 'Blackbird', 'Happy New Year'.
Blackbird
Rating-3/5